Join Houston Astros Pitcher Lance McCullers, Jr!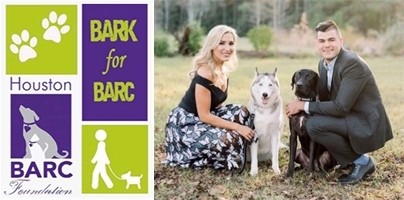 Saturday, May 6, 2017 @ 8:30 AM
Come walk with Houston Astros Pitcher Lance McCullers, Jr. and the Houston BARC Foundation to raise funding and awareness for the City of Houston's BARC Animal Shelter & Adoptions! Proceeds will help complete construction on BARC's new adoption center.
Roxy & Scout
We love "happy tails"! Lisa H. adopted Roxy from BARC in 2006 and Roxy was a part of her family for 10 years. "She was the biggest lap dog we ever had – a great protector and friend!" After Roxy crossed the Rainbow Bridge, Lisa and her family adopted Scout from BARC. They think he is a Golden Retriever and German Shepherd mix. "He is a big, goofy dog… Scout just started obedience training and is a smart pooch!" Thank you, Lisa and Family, for adopting your fur-ever friends from BARC!
Your Donation Dollars At Work
$10
Provides
one day's care and feeding for one dog or cat
$25
Provides
one week's veterinary services for one dog or cat
$50
Provides
one spay or neuter surgery for a dog or cat
$100
Provides
six puppies or kittens to go to an offsite adoption event
$500
Provides
an offsite adoption event for up to 30 animals