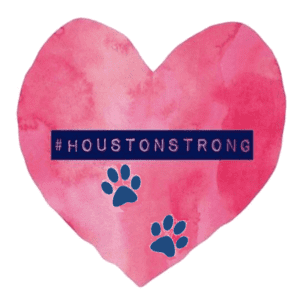 The Houston BARC Foundation is extremely grateful for the outpouring of donations following Hurricane Harvey.  Your gifts make it possible for us to help the BARC shelter animals and other pets displaced by the storm.
The disaster has touched lives both near and far – we are thankful for other animal partners who have assisted in this critical time. The gift of time, talent, and monetary resources continues to make us #houstonstrong.
Thank you.

Support the Houston BARC Foundation during this year's BIG GIVE Houston!
When: November 28, 2017
Where: EVERYWHERE (Online)
To improve the quality of life for all animals in Houston, especially those under the care of the City of Houston's BARC Animal Shelter & Adoptions.
Donations to the Houston BARC Foundation directly benefit animals sheltered at, or otherwise cared for by, BARC through purchases of medical, kennel, sanitary, and other supplies and equipment. The Houston BARC Foundation's efforts are also focused on raising public awareness among all Houstonians about homeless and at-risk animals throughout our community.
Dahlia was adopted in March 2016 from our #BARCMobile. Her mom describes her as, "perfect," and says she is a little spoiled! Congratulations, Dahlia! You deserve it!
read more
Your Donation Dollars At Work
one day's care and feeding for one dog or cat
one week's veterinary services for one dog or cat
one spay or neuter surgery for a dog or cat
six puppies or kittens to go to an offsite adoption event
an offsite adoption event for up to 30 animals