On behalf of Houston Astros Pitcher Lance McCullers, Jr
and the Houston BARC Foundation…
We are thrilled to invite you to the 3rd annual BARK for BARC Pet Walk on April 28, 2018, at 8:30 AM, at Rice University. This prominent event brings together animal lovers and their furry friends from across the city to "strut their stuff" in support of the Houston BARC Foundation, benefitting the City of Houston's BARC Animal Shelter.
As Houston recovers and rebuilds after Hurricane Harvey, we are grateful for the monetary and in-kind donations from supporters in our community and across the nation that helped protect and support animals affected by the storm. More than 380 pets were adopted and over 1,000 animals were transferred to rescue groups from BARC before, and in the weeks after, Harvey. We hope to build on this momentum with our 2018 BARK for BARC Pet Walk and continue saving lives by engaging more Houstonians in BARC's mission.
A few facts about BARC and why we have chosen to support this municipal shelter:
BARC takes in between 25,000 and 30,000 animals per year.
BARC is the only Houston shelter that is required to accept every dog or cat regardless of shelter capacity or the behavior, breed or medical condition of the animal.
BARC partners with animal welfare groups across the city to find homes for thousands of animals each year through rescue, transfer, foster, and adoption programs.
BARC understands that low-cost spay/neuter initiatives are the most successful long-term solution to reducing and managing the stray animal population in Houston.
Through BARC's Healthy Pets Healthy Streets initiative, BARC partners with local spay/neuter providers such as Emancipet, Friends For Life, Spay-Neuter Assistance Program (SNAP) and the Humane Society to educate the community on the importance of spay/neuter and to provide free spay/neuter surgeries in targeted neighborhoods with the largest stray animal populations.
BARC's in-house Fixin' Houston Clinic—the first of its kind in the state—provides low-cost spay/neuter services for all Houstonians. In 2017, BARC spayed or neutered over 15,800 animals through Fixin' Houston, Healthy Pets Healthy Streets, BARC's block walking program, and through other in-house shelter surgeries.
BARC recently partnered with Petco, receiving a significant grant to support a 2018 spay/neuter initiative.
Completing construction of the new adoption center is vital to helping BARC find homes for the thousands of homeless animals in BARC's care. The City of Houston provided $6.1 million for the first phase of the facility, which opened in August 2015. We are delighted to announce that, thanks to your generous past donations to the Houston BARC Foundation and contributions from others in the community, momentum for the completion of the build-out of the new Cat Adoption Center grows as we enter 2018. Of import, in 2017, we assisted with animal cancer treatment medications, billboards used in a spay/neuter campaign, signage at the BARC Animal Shelter, other necessities, as well as improvements to the pet play yards.
As thousands of animals still need our support, please join us on Saturday, April 28 at the BARK for BARC Pet Walk to help raise vital funding to support our city's animals still longing for forever homes. Bring along your family, friends or fur babies to walk or just come hang out to advocate for our friends in need.
We look forward to seeing you at the beautiful Rice campus as we BARK for BARC—door prizes, goody bags, and fun await! Thanks in advance for your generosity.
With gratitude and warm regards,
The Houston BARC Foundation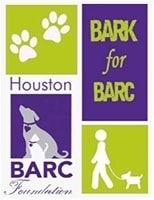 Lance McCullers, Jr
BARK for BARC Pet Walk
Honorary Chair
Sofia Adrogué
BARK for BARC Pet Walk
Chair
Schuyler Adrogué Gustafson
BARK for BARC Pet Walk
Chair
Y Ping Sun & Mei Leebron
BARK for BARC Pet Walk
Co-Chair
Caroline Baker Hurley & Bruce Hurley III
BARK for BARC Pet Walk
Co-Chairs
---
---
BARC Foundation
Advisory Board
Brianna DAlessio South
Chair
Ashley P Turner
Chair
Sofia Adrogué
Board Liaison Chair
---
---