Third Annual BARK for BARCPet Walk Hits a Home Run: Pet Lovers, Astros Fans & Houston's Leaders Praise BARC's Role During Harvey and Raise Over $100,000 for City's Animal Shelter
Proving that not even Harvey can keep Houston's animal advocates down, over 280 Houstonians, pet lovers, and Astros fans happily strutted their mutts at the 3rdAnnual BARK for BARC Pet Walk and raised over $100,000 for Houston's homeless animals. The April 28th event held at Rice University was hosted by "First Lady" of Rice, Y. Ping Sun, along with her daughter, Mei Leebron, Founder and Chair Sofia Adrogué, BARC Foundation Advisory Board Chair, along with her daughter, Schuyler Adrogué Gustafson, as well as Co-Chair Caroline Baker Hurley, along with her son Bruce Hurley III. The significant funds raised solidified that the third time is indeed the charm, breaking previous records and raising funding and awareness for BARC, the City of Houston's Animal Shelter and Adoptions Center. Lance McCullers Jr., Houston Astros Pitcher, served as Honorary Chair, and addressed the crowd along with Mayor Sylvester Turner and Former Mayor Annise D. Parker.
In the days following Harvey, BARC worked with rescue, foster, and animal welfare groups from across the country to ensure that the pets displaced by Harvey had a happy and healthy place to stay until they could be reunited with their owners or find a new forever home.  In total, more than 380 animals were adopted and over 1,000 transferred to rescue groups from BARC, a testimony to Houston's strength and Houstonians' commitment to helping each other in times of need.
Sofia Adrogué summed up the success of not only the walk but also the future for the City of Houston and its passion to make animal welfare a mission accomplished. Citing Rice University's 2018 Kinder Houston Area Survey and Prof. Stephen L. Klineberg, she noted that "we are a city of action, we come from everywhere, embracing diversity, we are the Consequential City of America — America's Future Worked Out in Houston, Texas."
"Without a doubt, the generosity before and in the weeks after Harvey demonstrated the positive change that donations from our community and from across the nation can make in protecting and supporting our City's most vulnerable animals," said 2018 BARK for BARC Pet Walk Founder & Chair Sofia Adrogué. As Houston BARC Foundation's President, Alan Ratliff has advocated, "The Pet Walk aims to build on this momentum so BARC can continue saving lives."
Houston Astros Pitcher Lance McCullers Jr. joined the event as Honorary Chair to advocate for BARC's shelter and the thousands of animals who need forever homes. "My wife Kara and I are strong advocates of BARC and for adopting shelter pets here in Houston. Through events like the BARK for BARC Pet Walk, we can help drive awareness of the important services BARC provides for the City's homeless animals and shine a spotlight on all the shelter pups and cats longing for forever homes," said Lance McCullers Jr.
BARC is the only animal shelter in Houston required by law to accept every dog, cat, or other animal regardless of breed, temperament, health conditions, and circumstance. Created in 2010, the Houston BARC Foundation raises money to support BARC's programs, including pet adoption, spay/neuter accessibility, and awareness for responsible pet ownership.
Significant sponsorship  was provided by the following, among others: Canine King — Sofia Adrogué, Sten Gustafson & Schuyler Adrogué Gustafson / Caroline Baker Hurley, Bruce Hurley & Bruce Hurley III / Y. Ping Sun, David Leebron & Mei Leebron; Josephine & Rahul Vashi and Team Peanut & Cashew; and Qing Wang & Allen J. Zhang; Smitten Kitten — Comcast; Pet Palooza — Susan and Dan Boggio / PBK Architects; CenterPoint Energy & Sidney Faust; Man's Best Friend — GE Foundation & The Lance McCullers Jr. Foundation. Houston Strong, Astros Strong, and BARC Strong!
Please visit www.HoustonBARCFoundation.org or email [email protected] for more information about getting involved in the effort to find forever homes for Houston's homeless animals.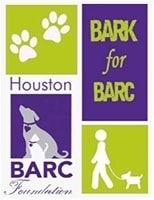 Lance McCullers, Jr
BARK for BARC Pet Walk
Honorary Chair
Sofia Adrogué
BARK for BARC Pet Walk
Chair
Schuyler Adrogué Gustafson
BARK for BARC Pet Walk
Chair
Y Ping Sun & Mei Leebron
BARK for BARC Pet Walk
Co-Chair
Caroline Baker Hurley & Bruce Hurley III
BARK for BARC Pet Walk
Co-Chairs
---
---
BARC Foundation
Advisory Board
Brianna DAlessio South
Chair
Ashley P Turner
Chair
Sofia Adrogué
Board Liaison Chair
---
---